COMMENTS FROM MINISTRY LEADERS:
"Tracy spoke at our 2013 Women's Christmas Event and we were blown away. She was engaging, real and had a way of speaking that hit every woman right where they needed it. Christmas programs can be predictable, but women are still talking about Tracy's story of the unexpected gift. And, don't let her tell you she can't sing… she led us in a sweet time of worship too." – Sheree Decouto, Fellowship Bible Church

(www.fellowshiproswell.org)

 
"We were privileged to have Tracy Hurst share her ministry with us at our SHINE women's conference.  Tracy carries an anointing to open the depths of women's hearts through her gift of communication. She does not just open hearts, she then plants powerful seeds of truth that release hope for freedom and life change.  We love the unique ability that God has given Tracy to weave together truth, humor, conviction, and comfort all in one message.  She is authentic and passionate, a true gift to the body of Christ!"
– Robin Houtsma, Eastgate Church

(www.eastgatechurch.org)
"We were abundantly blessed through our time with Tracy. God used her personal journey as well as years of counseling experience to teach and minister in such a significant way.  From our first phone conversations it seemed the Lord so easily knit our hearts together and made it evident how sensitive she was to His leading.

She was amazing to work with and the Lord allowed such an ease in how we flowed along with her as a team.

She has such a love and compassion for the hearts of women and can relate in a gentle and healing way while also delivering a powerful charge for each to step forward courageously into the destiny He has for them.

Funny, real, animated, full of faith, and powerful in prayer…God has gifted her in many ways and we consider her family after our weekend together."  – Wendy Long, Women's Director at Two Rivers Church, Lenoir City, TN

(www.tworiverschurch.org)
"Cumberland Community Church had the grand privilege of bringing Tracy Hurst to our church on Mother's Day.  She hit a home run, but God turned it all into a grand slam!  Wow.  Tracy's dynamic speaking, creative illustrations, and personal stories all combined with the Word of God to challenge and inspire both men and women in deep ways.
On a more personal note… I loved watching Michael, Tracy's husband, support and stand in the shadows as Tracy ministered.   There's something to be said about how God is using the whole of the Hurst family.
I whole heartedly and unreservedly recommend Tracy to any church ready for God to move."
–

Alan Scott, Lead Pastor of Cumberland Community Church

(www.cumberlandchurch.org)
"What Tracy brings to our retreats goes beyond being simply a 'guest speaker.' She immediately became a friend, confidant, encourager and spiritual 'mom' to every single woman on our retreat. She uniquely bonded with each one of us throughout the weekend, immersing herself into our group as if she has just always been a part of our church.

She's the girlfriend you've always wanted and the girlfriend you need — laughing with you, crying with you — but speaking God's Truth, even if you didn't want to hear it. But always with a healthy dose of love, laughter, grace and mercy. 

She has a unique ability to break down principles into practical ways we can put His Truths into our back pockets and use every single day. We adore Tracy, and consider her an honorary member of our women's ministry."

– Monica Steely,  Pastor's wife and Women's Ministry, Highlands, NC

(www.cbchighlands.com)
"Tracy's competence, knowledge and wisdom, combined with her ability to connect easily with others makes her a very effective communicator and motivator. She uses the Word of God, humor, and her own experiences to communicate God's truth in a fun, engaging and practical way. Because of the healing that she has experienced through Jesus Christ, Tracy now has a passion to facilitate healing in others through the power of the Holy Spirit." – 
Amy Blakeslee, Women's Hope Ministry, 
Northpoint Community Church

(www.northpoint.org)
"We have had the honor of having Tracy speak at our Women's Retreat two years in a row now and she continues to be a tremendous blessing to us! Tracy is genuine, anointed by God, clothed in the full armor and delivers her messages with beauty and laughter.  She leaves us continually longing for MORE and MORE! God has performed a great healing in her life and it is evident that Tracy desires for all women to be filled with the fullness of the Holy Spirit.  She speaks gently and with great affirmation. 

When you meet Tracy, you will know without a doubt that Jesus is her Lord and that she eagerly desires everyone to know and follow Him."


Linda David, Community Bible Church, Highlands, NC  

(

www.cbchighlands.com)
"Tracy had us at Hello.  Nobody moved except when we laughed! What an anointed and powerful speaker.  If you are looking for someone to speak to a women's group…run, don't walk, and invite her! Personally, it was a "life changing" experience for me; and I do not say that lightly. Hearing what she's been through as a child and teen truly changed me.  And if you suspect that someone does not believe in GOD, let them hear Tracy's "ebay story". I don't remember when a story has resonated such a shocking response from all in the room – Very POWERFUL. I told her to hurry and write a biography, I want it right now for my teen granddaughter!  My only complaint was that all my friends/family were not there to hear this remarkable woman who has a hunger to help women; and she succeeds at doing so.  Truly an amazing day."

–

Kathy Hembree, First Baptist Church of Smyrna, 2011

(www.smyrnafirst.org)
"Tracy brings a perspective to her sessions that only someone who has "been through" can articulate. Her imagery paints a picture of the relationship between God and man that cannot be misunderstood and

will

not be forgotten.

Tracy's message meets women where they are–no matter what age, ethnicity, or station in life. A month after our conference, we are still receiving praise reports about how God has transformed the lives of women as a result of being in His presence during Tracy's God-inspired sessions."

–2010 Heartseekers Committee
"Wow, what an awesome speaker!" resounded over and over in the halls, via email and per countless phone calls after the Ladies' Retreat for Sophia Academy. Tracy Hurst perfectly presented "Overflowing to Overwhelmed: Becoming a Woman of Grace" to 60 ladies in a passionate yet easy-to- grasp manner that left them either speechless or pouring over with emotion.

One inspired guest wrote, "How brave of Tracy to share her story of healing!" Tracy, too, speaks freely of her calling and her passion for Christ so that it literally overflows to her audience…much like the Grace of God of which she speaks.

A real treasure can be found in the ministry of Tracy Hurst and any chance to hear her is both a treat and a gift.
– Susan Loeffler,

Sophia Academy Ladies' Retreat

(www.sophiacademy.org)
"Tracy Hurst is "the real deal." She is transparent in her message and relatable to women on many levels. Tracy not only helps women to see where they may need to look closer at themselves and their relationship with God, but also provides practical advice that can be applied to daily living immediately. She is an enthusiastic and captivating speaker, never leaving the audience wondering when the next break is coming. She makes the audience feel welcome to ask questions and answers them with sincerity. Tracy Hurst is truly inspiring and impactful, and a blessing to all that hear her!"  – Women's Committee, First Baptist Church of Alpharetta

(www.fbca.com)
"I enjoyed getting to know Tracy over the past few months and our Event Committee was very pleased with Tracy's clear presentation, message & most of all her sweet heart and faith. We had such positive response from our ladies; here are some: "Tracy really spoke to my heart and reminded me to keep my focus and hope on my Savior this season." "The speaker was near the best we have ever had -Bring her back!" "The speaker was awesome!" Needless to say, I would highly recommend Tracy to any group!"

– Linda Ivy, Beech Haven Baptist Church,

(www.beechhaven.org)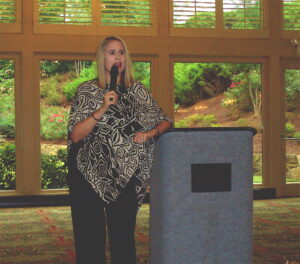 Tracy Hurst was a huge asset to our women's ministry. Her ability to relate to the struggles, heart longings, and joys of ordinary women was only surpassed by her compassion and humility.

Tracy communicates with tremendous clarity and authenticity, calling forth courage in women to believe in the greatness of God that can change their lives.

I highly endorse Tracy's ministry, seeing first hand her character and daily walk. The gift of God in Tracy will truly refresh, challenge and add great faith!"
–

Beth Bennett, Pastor's Wife & Women's Ministry Leader
"Tracy Hurst is a woman of compassion, integrity and faith. I highly recommend her ministry in any venue but particularly in the women's arena. Her life has been marked by the power of the Holy Spirit and the manifest presence of God. Through her dynamic gifts in speaking she has the unique ability of connecting with people like no one else I have ever met. I have been forever changed by her ministry and I know she will make the same impact in hearts everywhere!"
– Tony Sutherland, Worship Leader & Minister

(www.tonysutherland.com)
"Tracy Hurst is one of the most anointed people I've ever met! As she delivers a message of hope and inspiration, lives are changed for the glory of the Lord. With a gentle spirit and powerful punch, Tracy encourages people to move forward in the Call of God and motivates them to grow deeper and stronger in their relationship Him. She is a blessing to all who know her and hear her!
– Rev. Brigette Wagner, Speaker & Worship Leader

COMMENTS FROM ATTENDEE'S
"Tracy has a real gift of being able to put her message into such a down to earth, easily applied way. Her counseling background adds so much to the message. Her illustrations are "spot on" and drive the message home. They are easy to remember and to bring back to mind. We used her illustration with a group just this morning! I would love to see her return as she communicates God's Word in such a REAL way. I told someone that what we get from her each time she speaks would be "unaffordable" if we went to her individually, she packs so much in! From: Jo, 2012
"Tracy so touches me in places that I need.  I have truly enjoyed her two years now at our Women's Retreat.  I love her and Her presentations.  She has a gift to speak on a deeper level and make it reality.   I like how she built on last year this year.  Truth be told, I could listen to her every week and not grow tired of it because the more I hear God's word and the way she presents it, the deeper it goes and the more His word makes sense and becomes a part of me. I love how she brings the spiritual and psychological together because I think as women with lots of feelings and emotions that is so important.  I have found myself thinking on and repeating so many things we heard last week-end.  I am flourishing in the over-flow, praise God!"  From: Sharon, 2012
"Recently Tracy Hurst spoke to our group of Hope Mentors at our church on the topic of "Rejection".  She began by opening in prayer and inviting the Holy Spirit into what she was sharing and there is no doubt that God was speaking through Tracy that night.    She poured out truth through the scripture, transparently shared her own personal story, and expertly presented how rejection affects individuals, resulting behaviors from it, the destructive cycle that we get stuck in and steps to freedom.  As I sat there listening to her, God showed me truth in my own life and also laid individuals on my heart that are suffering from rejection.  As I met with my care receiver the next day, she cried as she explained that she is a people pleaser because she is afraid of being rejected.  My own daughter is currently experiencing rejection by a coach but I was completely oblivious as to how deeply it was affecting her.  In my small group of 9th grade girls,  I have a student with a difficult home life and hearing about self-protectors immediately helped me to understand that she is stuck in a dangerous cycle.  A friend of mine has been struggling for years with her teenage daughter that was diagnosed with A.D.D. as a child.  I asked her the question, do you think your daughter has been rejected and I shared with her the truths that I have learned.  She did some research, spoke with Tracy personally and after years of unanswered questions and ineffective counseling, she finally began to understand the cause of her daughter's behavior.
I am thankful to Tracy for her passion to share God's Truth so there is hope and freedom from rejection!"
– Attendee from Brown's Bridge Community Church, Andy Stanley, Senior Pastor, 2011
"This has truly been an amazing evening for me. I feel as though this evening was meant just for me.My heart has been so heavy for so long, but now it's as though I have gained a new ability to look to the only source of true strength! Thank you!"
"This event and Tracy's message has moved my heart and made me evaluate my relationship with Jesus. I want to live for Jesus and give him praise.
"Spoke to situations going on in my life right now."
"Friday's message was the revival I needed. I was the only person in the room that night. God spoke to me through Tracy. Thank you!"
"Wonderful! Wow! What a "Lady" of God. So sincere! Know that God is going to continue to use Tracy. God Bless! "
"Tracy's message was right on–what I needed!"
"Message was just for me! Thank you! Awesome."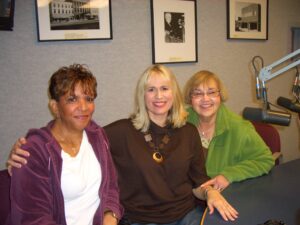 "I felt so uplifted & inspired to keep walking Forward on my path. Perfect message for me especially last one regarding relationships with others – when I've just lost a close relationship w/girlfriend that I have missed greatly. It was truly healing to better understand with the last message it was for the good of all. I feel refreshed spiritually & uplifted & I am so grateful to all the team members & prayer partners who made this conference possible. "
"Wonderful awesome retreat! So timely in topic & music–so blessed & encouraged–He does exceedingly abundantly above all we ask or think, infinitely beyond our highest hopes, prayers, thoughts, or dreams! Praise the Lord!"
Tonight was very special. I divorced just a couple of years ago, and well it took that to bring me back to God. Everything tonight was a strong reinforcement and I can't begin to explain how wonderful it feels to have God as my anchor. Thank you and God bless."
"Tonight I realized it is okay to mess up or go through a trial, but I must trust in my Lord to make it through the storm. I have accepted Jesus Christ into my heart as Lord and Savior. I have been blessed tonight and I want to thank you for your prayers."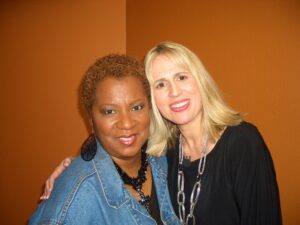 "Tracy is a dynamic speaker and she never ceases to amaze me. I try to attend whenever she is speaking. What I love about Tracy is that she speaks straight to a woman's heart. I always feel understood and not alone when she shares her testimony and life challenges. Her transparency lets me know she is the "real thing." I can attest that she is the same woman off stage as she is on. It is obvious that Tracy's heart is to see people become whole and free through Jesus Christ. Her speaking style makes me laugh and cry in one sitting! Her faith in God is contagious. I always leave her presence feeling inspired to draw closer to the Jesus. Tracy is truly a mouthpiece for the Lord."
Copyright
This entire site © 2006-2009, Tracy Hurst
This Site is only for your personal use. You may not distribute, exchange, modify, sell or transmit anything you copy from this site, including but not limited to any text, images, audio and video, for any business, commercial or public purpose without permission.