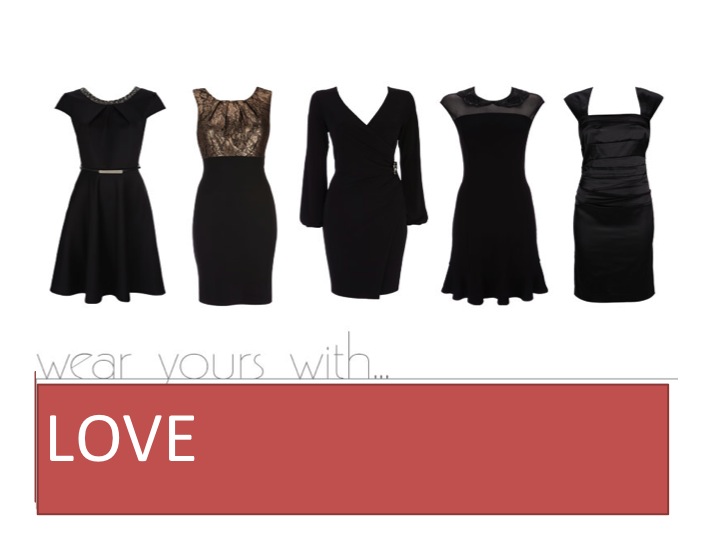 "So, chosen by God for this new life of love, dress in the wardrobe God picked out for you: Compassion, Kindness, Humility, Quiet strength, Discipline. Be even-tempered, content with second place, quick to forgive an offense. Forgive as quickly and completely as the Master forgave you. And regardless of what else you put on, wear love. It's your basic, all-purpose garment. Never be without it."
Colossians 3: 12-14, The Message Translation
Ask any woman and she will tell you that a simple black dress will take her just about anywhere in life. For example, throw on a black dress, add a pair of high heel shoes and 'hi-ho-hi-ho' off to work you go. You can run errands around town by sliding into your favorite pair of flip-flops. You can enjoy a formal evening out by placing a strand of pearls around your neck. Not to mention that as you dash around town in this all-purpose black garment, you will look simply elegant!  Every woman needs a go-to black dress.
However, when we enter our closets each morning, we typically select our outfit based on a mood, habit or inspiration.  Psychologies Magazine states, " Clothing choices are rarely neutral, and our inner secrets can be read in our choices."
What many of you may not know is that God is  interested in what we wear, spiritually speaking that is. He has picked out some articles of clothing that He believes are essential for every believer's closet. So, let's do some inventory shall we? Would I find the following items within your spiritual closet: compassion, kindness, humility, quiet strength, discipline, even tempered, content with second place and quick to forgive?
I will admit to having most of these, yet I seem to wear the same things over and over again! For example, I regularly wear a shirt of compassion, slacks of forgiveness and shoes of kindness, but I often pass by the jacket of discipline! If we are all honest, there are probably a few of the mentioned garments listed above that we have a hard time putting on…which one is it for you?
But, there is one all-purpose garment (like that essential black dress), which God states we are NEVER to be without:
LOVE is the one piece of clothing we need to be wearing at all times – no matter the season, predicted weather forecast or agenda of our day. The garment of love is to be extended to others, ourselves and to God. It is the garment that will bring success our way no matter what. So go ahead and wear your black dress, but don't forget to put on some LOVE to go with it! I promise you that with that combination – you will look fan-tab-ulous!
Prayer: Lord, I want to wear what you have picked out for me today. I choose to place upon myself this day: compassion, kindness, humility, quiet strength, discipline, I desire to be even tempered, content with second place and quick to forgive, but importantly I choose to walk in love. By choosing to wear the articles of clothing listed above – I am dressed for success. Thank you for loving me this day. Amen