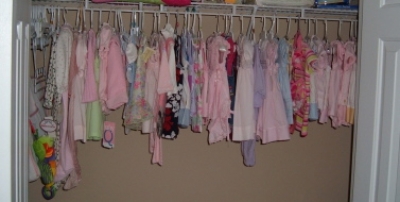 "Now to Him who is able to do exceedingly, abundantly above all that we ask or think, according to the power that works in us, to Him be glory in the church by Jesus Christ to all generations, forever and ever. Amen." -Ephesians 4:20, NKJV

Believe it or not – this is a picture of my daughter's closet before she was even born! Not to mention that all of her drawers were completely full and I still had one more shower to go! My husband and I laugh because Alyssa still owns more clothes than us even to this day! I have found since becoming a Christian that Alyssa's bountiful closet is a beautiful picture of God's goodness. God not only meets our needs, He is able to do exceedingly, abundantly, above all we could ever ask, think or even imagine!
What is it that you are in need of today? Peace? Health? Joy? Provision? I promise you that your Heavenly Father will move heaven and earth to bless you this very day. He is a God of more than enough! When it appears that your prayers are going unanswered – you can trust in the nature of God. Even though life may be hard right now, God is good and He is moving on your behalf today. I encourage you to go ahead and thank Him in advance for meeting your needs. Go ahead and praise Him before the provision arrives. He is worthy of all praise. Our Lord is willing and able to provide abundantly for us this day.
Prayer:
Lord, I thank you for being more than enough. I come before you today and ask that you move on my behalf. Please touch me today, heal my body, restore my relationships, provide for me financially and fill me to overflowing with Your joy. No matter what the circumstances may look like in the natural, I declare that You are more than enough! I choose to praise You during the storms of life. You are the Almighty God. I worship You and thank You in advance for moving on my behalf this day. I rest in You, Jesus. You are worthy of all my praise! Amen.